Our History
I purchased my first Belgian in 1977, Ch Brenna v Siegestor UDT TT WD-C ROM, from the Siegestor kennel in Southern California. Her sire was Am/Mex Ch OTCh Windstorm v Siegestor TD SchIII CH HOF . Brenna had a strong desire to work and please, she earned her UD in 4 trials and TD at our first try. I was primarily into obedience when I started out, we didn't have agility then. Brenna was the foundation of all my early litters producing 2 working police dogs, several champions and obedience dogs, my lines today go back to her.
Her daughter, Ch Isengard's Calendar Girl Select '88, sired by Ch Van Mell's Trademark, went Select at the BSCA 1988 National Specialty. I bred her to BISS Ch Rolin Ridge's Fourteen Karat CD ROM in 1988 and produced Ch Isengard's Front Runner CD NA. He was my first agility titled dog. I was fortunate to have his daughter come to me when her owner had to move. Ch Greenfields Zibelle OA NAJ CGC TDI Select '96, was beautiful mover and worker. She produced multiple group placing offspring.
Her daughter, Ch Isengard's Licensed to Chill CD RN ROM was owned by Ramona Kraft and Penny King. I leased her for my T litter, we traveled France in 2006 to the outstanding producer, sr RE Fr CH Rival de la Fuerer du Crepuscule. That litter produced some very fast agility dogs, Sota and Lance.  Her daughter, National Specialty winning, BISS Ch Isengard's Taliesin PT AX AXJ, is with us today and producing outstanding offspring. She was leased by by Ramona and Penny for a litter with Ch Isengard's Oncore and produced National Specialty winning, BISS MACH6 GrCh Verseau's Passage to India MX MXJ. Not only a top conformation dog but also a top agility dog. Another of her daughters, BISS Ch Isengard's Dare HIC won the 2016 National Specialty.
In 1995 I reserved a puppy bitch from Sumerwynd Belgians as the start of a new breeding program. I had changed careers, married, and started a family and, at the time, did not have any bitches that went back to my old lines, Zibelle had not come into my life at that time. I wanted to find the right pup to provide a new start and that would be fun show and train. This little girl exceeded all my expectations. Dana became, Am/Can/UKC multi BISS CH SumerWynd's Dana of Isengard CDX HX MX MXJ TD TT Conformation HOF Herding HOF Agility HOF WDC-X WD-H ROM.
I could not have found a better Belgian to provide a foundation for what I strive to achieve in breeding and training, a versatile Belgian that is sound in temperament, sound in structure and that has lovely breed type. Dana was a 3 time BSCA Versatility Award winner in performance events, a 5 time BSCA Select in conformation, she was HIT in Herding at the BSCA '98 National Specialty and won the Top 10 in conformation at the 1999 BSCA National Specialty under a panel of breeder judges, and at the 2000 and 2002 National Specialties, she was Best of Breed under respected breeder judges Marcy Spalding and Barbara Swisher.
I started bringing in European lines and took Dana to Europe twice to breed to males in the Netherlands and Finland with much success. At 8 years old she won the Veterans Class at the 2004 National Specialty and went on to go Best of Opposite Sex to her son, Ch Isengard's Joe Cool RE CGC HIC HOF with her daughter, Ch Isengard-n-Sumerwynd's Nikola HSAs going Select. At this show another son, Justin, was HIT at both Herding trials and also won the BSCA Versatility Award. Jax, from Dana's 'N' litter, was RWD and won HIT in Agility. At over nine years she went to the Canadian National and was again BOS from Veterans under breeder judge Jean Lawless from Ireland. A top winner and a top producer, Dana was truly a once in a lifetime dog. She produced two National Specialty winners and multiple National HIT winners in herding, obedience and agility.
In 2011 I again flew to Europe, this time to import a puppy from the Deabei Kennel in the Czech Republic. Ch Yum Deabei  AX AXJ is sired by sr Ch Int Charme-Noir de la Closerie de Yenda IPO2 and her dam is sr Delphine Erlander IPO3. She is an important part of the future of Isengard Belgians. I am very happy with her first litter with our Justin and her second with Intl Ch Aiko Deabei BH IPO V.
In October 2014 I imported Jacqui de la Vallée des Suessiones NA NAJ from Michel Desfosses in France. She comes from outstanding Ring Sport lines including some top Malinois kennels.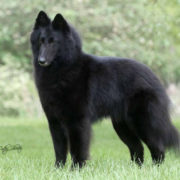 BISS Grand Ch Isengard's Dare HIC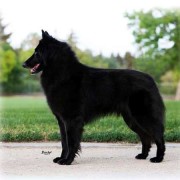 BISS GCh Isengard's Taliesin AX AXJ PT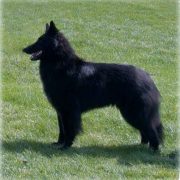 Am/Can BISS Ch SumerWynd's Dana of Isengard HXAd MX MXJ CDX TD TT WDX-C ROM BSCA Conformation HOF Herding HOF Agility HOF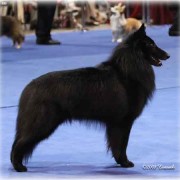 AKC/CKC MBISS GrCh Isengards Oncore CD RN HSAs STDs HRD1s HDAT1s HDA1s RLF1s FSSs CGC TDI HOF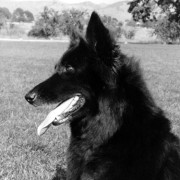 Ch Brenna v Siegestor UDT TT WD-C ROM
My first Belgian w. 2/15/77